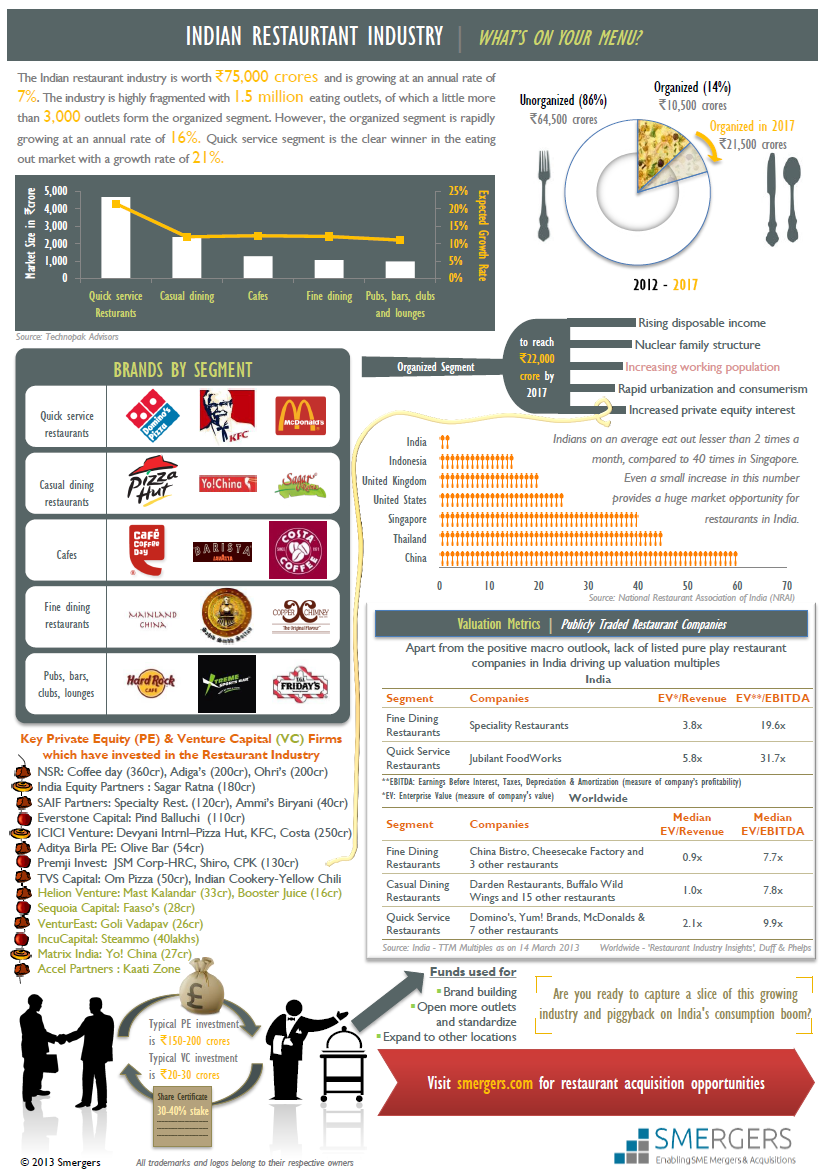 Indian Restaurant Industry | What's On Your Menu?
The Indian restaurant industry is worth Rs.75,000 crores and is growing at an annual rate of 7%. The industry is highly fragmented with 1.5 million eating outlets, of which a little more than 3,000 outlets form the organized segment. However, the organized segment is rapidly growing at an annual rate of 16%. Quick service segment is the clear winner in the eating out market with a growth rate of 21%.
Organized Segment is expected to reach Rs.22,000 crore by 2017, driven by:
Rising disposable income
Nuclear family structure
Increasing working population
Rapid urbanization and consumerism
Increased private equity interest
| | | |
| --- | --- | --- |
| Segment | Market Size (Rs Cr) | Expected Growth Rate |
| Quick service Resturants | 4675 | 21.5% |
| Casual dining | 2365 | 11.9% |
| Cafes | 1265 | 12.3% |
| Fine dining | 1045 | 12.0% |
| Pubs, bars, clubs and lounges | 963 | 11.0% |
"Indians on an average eat out lesser than 2 times a month, compared to 40 times in Singapore. Even a small increase in this number provides a huge market opportunity for restaurants in India."
Brands By Segments
Quick Service Restaurants (QSR): Domino's, KFC, McDonalds
Casual dining restaurants: Pizza Hut, Yo! China, Sagar Ratna
Cafes: Cafe Coffee Day, Barista Lavazza, Costa Coffee
Fine Dining Restaurants: Mainland China, Sahib Sindh Sultan, Copper Chimney
Pubs, bars, clubs, lounges: Hard Rock Cafe, Xtreme Sports Bar, TGIF
Key Private Equity (PE) & Venture Capital (VC) Firms which have invested in the Restaurant Industry
NSR: Coffee day (360cr), Adiga's (200cr), Ohri's (200cr)
India Equity Partners : Sagar Ratna (180cr)
SAIF Partners: Specialty Rest. (120cr), Ammi's Biryani (40cr)
Everstone Capital: Pind Balluchi (110cr)
ICICI Venture: Devyani Intrnl–Pizza Hut, KFC, Costa (250cr)
Aditya Birla PE: Olive Bar (54cr)
Premji Invest: JSM Corp-HRC, Shiro, CPK (130cr)
TVS Capital: Om Pizza (50cr), Indian Cookery-Yellow Chili
Helion Venture: Mast Kalandar (33cr), Booster Juice (16cr)
Sequoia Capital: Faaso's (28cr)
VenturEast: Goli Vadapav (26cr)
IncuCapital: Steammo (40lakhs)
Matrix India: Yo! China (27cr)
Accel Partners : Kaati Zone
For a 30-40% stake, a typical PE investment is Rs.150-200 crores and a typical VC investment is Rs.20-30 crores. Funds are used for brand building, to open new outlets, standardize, and to expand to other geographic locations.
Valuation Multiples for the Indian Restaurant Industry | Publicly Traded Restaurant Companies
Apart from the positive macro outlook, lack of listed pure play restaurant companies in India driving up valuation multiples
India

Segment

Companies

EV*/Revenue

EV/EBITDA**

Fine Dining Restaurants

Speciality Restaurants

3.8x

19.6x

Quick Service Restaurants

Jubilant FoodWorks

5.8x

31.7x

Worldwide

Segment

Companies

Median EV/Revenue

Median EV/EBITDA

Fine Dining Restaurants

China Bistro, Cheesecake Factory and 3 other restaurants

0.9x

7.7x

Casual Dining Restaurants

Darden Restaurants, Buffalo Wild Wings and 15 other restaurants

1.0x

7.8x

Quick Service Restaurants

Domino's, Yum! Brands, McDonalds & 7 other restaurants

2.1x

9.9x
*EV: Enterprise Value (measure of company's value)**EBITDA: Earnings Before Interest, Taxes, Depreciation & Amortization (measure of company's profitability)CY: Calendar Year Ending December Source: India - TTM Multiples as on 14 March 2013
Share this industry watch with your friends and colleagues